Email id:




Saved queries and queries in this session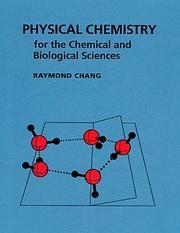 Physical chemistry for the chemical and biological sciences/ Raymond Chang.
Physical description:
xvi, 1018 p. ill. (some col.) 28 cm.;
Bibliographic notes:
Includes bibliographical references and index;
General notes:
Rev. ed. of: Physical chemistry with applications to biological systems. 2nd ed. c1981;
Author(s):
Chang, Raymond.
;
Chang, Raymond.
;
ISBN:
1891389068 (alk. paper);
Subjects:
Chemistry, Physical and theoretical
;
Biochemistry
;
Publisher:
Sausalito, Calif : University Science Books , c2000.;
Call number:
QD 453.2 .C43 2000
;
Type:
Book
Available At:
Main Library -> Circulation Section
Availability:

View details
Reviews:
(0 reviews)

View/Add reviews
Quick view ↓
|
Tag This Record

|
Add To Favourites

|
ReservethisItem
Print Record

|
Email Record

|
Add Record To Buffer(You can print all records in buffer) (You can print all records in buffer)

You Need to Login, to view the Full View
Download MARC Record
| | |
| --- | --- |
| Leader | |
| 008 | 991025s2000 caum a001 0 eng |
| 020 | $a1891389068 (alk. paper) |
| 050 | 00$aQD 453.2$b.C43 2000 |
| 100 | 1 $aChang, Raymond. |
| 245 | 10$aPhysical chemistry for the chemical and biological sciences$cRaymond Chang. |
| 260 | $aSausalito, Calif$bUniversity Science Books$cc2000. |
| 300 | $axvi, 1018 p.$bill. (some col.)$c28 cm. |
| 500 | $aRev. ed. of: Physical chemistry with applications to biological systems. 2nd ed. c1981 |
| 504 | $aIncludes bibliographical references and index |
| 650 | 0$aChemistry, Physical and theoretical |
| 650 | 0$aBiochemistry |
| 700 | 1 $aChang, Raymond.$tPhysical chemistry with applications to biological systems. |
Other books in the rack
Share your views - post your comment below
Please login to post comment
Please login to request check out of this item
This item does not belong to your library
You already placed a request for a similar item
You have reached the maximum limit of number of requests for check out
You already placed a request for this item
This item is already requested for check out by someone else
Unknown error occurred. Please try again
NOTALLOWEDTOREQUESTFORCHECKOUTFROMTHISSUBLOCATION
Your request for check-out is accepted. Your request is valid till
please login to reserve this item
INVALIDPATRONID
PATRONMEMBERSHIPEXPIRED
PATRONMEMBERSHIPONHOLD
MAXRESERVATIONCOUNTREACHEDBYPATRON
RESERVATIONALREADYPRESENTFORTHISPATRON
SIMILARITEMHELDBYPATRON
PATRONFROMTHISSUBLOCATIONNOTELIGIBLE
DOCUMENTAVAILABLE
RESERVATIONQUEUEFACTORNOTDEFINED
DATABASEERROR
UNKNOWN
Your reservation is successfully place. Your queue number is
Please Login To Save The Query
Query saved. You can close the dialog
Please Use A Different Query Name This Name Is Already Used
Unknown error. Please try again
Please Enter A Query Name
On saving the query, this dialog will close automatically