Email id:




Saved queries and queries in this session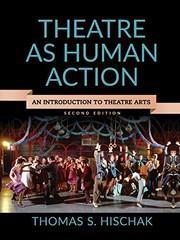 Theatre as human action:an introduction to theatre arts/ Thomas S. Hischak.
Physical description:
xiv, 265 pages 26 cm.;
Bibliographic notes:
Includes bibliographical references and index.;
Edition:
Second edition.;
Author(s):
Hischak, Thomas S.
;
ISBN:
9781442261006 paperback alkaline paper;
Subjects:
Drama.
;
Theater.
;
Formatted contents notes:
The theatre -- The play -- The playwright -- The play performers : the actors -- The play makers : the director and the producer -- The play builders I : theatre architecture and scenic designers -- The play builders II : other designers -- The playgoers I : the audience -- The playgoers II : the critic.;
Summary notes:
Most introductory theatre textbooks are written for theatre majors and assume the student already has a considerable amount of knowledge on the subject. However, such textbooks may be counterproductive, because they reference several works that may be unfamiliar to students with limited exposure to theatre. Theatre as Human Action: An Introduction to Theatre Arts, Second Edition is designed for the college student who may be unacquainted with many plays and has seen a limited number of theatre productions. Focusing primarily on four plays, this textbook aims to inform the student about theatre arts, stimulate interest in the art form, lead to critical thinking about theatre, and prepare the student to be a more informed and critical theatregoer. In addition to looking at both the theoretical and practical aspects of theatre arts--from the nature of theatre and drama to how it reflects society--the author also explains the processes that playwrights, actors, designers, directors, producers, and critics go through. The four plays central to this book are the tragedy Macbeth, the landmark African American drama A Raisin in the Sun, the contemporary rock musical Rent, and--new to this edition--the American comedy classic You Can't Take It with You. At the beginning of the text, each play is described with plot synopses (and suggested video versions), and then these four representative works are referred to throughout the book. This second edition also features revised chapters throughout, including expanded and updated material on the technical aspects of theatre, the role of the audience and critic, and the diversity of theatre today. Structured into nine chapters, each looking at a major area or artist--and concluding with the audience and the students themselves--the unique approach of Theatre as Human Action thoroughly addresses all of the major topics to be found in an introduction to theatre text.--Amazon.com, adapted from publisher description.;
Publisher:
Lanham, Maryland : Rowman & Littlefield , 2016;
Call number:
PN 1655 H57 2016
;
Type:
Book
Available At:
Main Library -> Circulation Section
Additional Physical Form:
Theatre as human action.
Availability:

View details
Reviews:
(0 reviews)

View/Add reviews
Quick view ↓
|
Tag This Record

|
Add To Favourites

|
ReservethisItem
Print Record

|
Email Record

|
Add Record To Buffer(You can print all records in buffer) (You can print all records in buffer)

You Need to Login, to view the Full View
Download MARC Record
| | |
| --- | --- |
| Leader | |
| 008 | 151112s2016 mdum a001 0 eng |
| 020 | $a9781442261006$qpaperback$qalkaline paper |
| 050 | 00$aPN 1655$bH57 2016 |
| 100 | 1 $aHischak, Thomas S.$eauthor. |
| 245 | 10$aTheatre as human action$ban introduction to theatre arts$cThomas S. Hischak. |
| 250 | $aSecond edition. |
| 260 | $aLanham, Maryland$bRowman & Littlefield$c2016 |
| 300 | $axiv, 265 pages$c26 cm. |
| 504 | $aIncludes bibliographical references and index. |
| 505 | 0 $aThe theatre -- The play -- The playwright -- The play performers : the actors -- The play makers : the director and the producer -- The play builders I : theatre architecture and scenic designers -- The play builders II : other designers -- The playgoers I : the audience -- The playgoers II : the critic. |
| 520 | $aMost introductory theatre textbooks are written for theatre majors and assume the student already has a considerable amount of knowledge on the subject. However, such textbooks may be counterproductive, because they reference several works that may be unfamiliar to students with limited exposure to theatre. Theatre as Human Action: An Introduction to Theatre Arts, Second Edition is designed for the college student who may be unacquainted with many plays and has seen a limited number of theatre productions. Focusing primarily on four plays, this textbook aims to inform the student about theatre arts, stimulate interest in the art form, lead to critical thinking about theatre, and prepare the student to be a more informed and critical theatregoer. In addition to looking at both the theoretical and practical aspects of theatre arts--from the nature of theatre and drama to how it reflects society--the author also explains the processes that playwrights, actors, designers, directors, producers, and critics go through. The four plays central to this book are the tragedy Macbeth, the landmark African American drama A Raisin in the Sun, the contemporary rock musical Rent, and--new to this edition--the American comedy classic You Can't Take It with You. At the beginning of the text, each play is described with plot synopses (and suggested video versions), and then these four representative works are referred to throughout the book. This second edition also features revised chapters throughout, including expanded and updated material on the technical aspects of theatre, the role of the audience and critic, and the diversity of theatre today. Structured into nine chapters, each looking at a major area or artist--and concluding with the audience and the students themselves--the unique approach of Theatre as Human Action thoroughly addresses all of the major topics to be found in an introduction to theatre text.--Amazon.com, adapted from publisher description. |
| 650 | 0$aDrama. |
| 650 | 0$aTheater. |
| 776 | 08$iOnline version$aHischak, Thomas S.$tTheatre as human action.$bSecond edition.$dLanham, Maryland : Rowman & Littlefield, 2016$z9781442261099$wDLC) 2015045269. |
Other books in the rack
Share your views - post your comment below
Please login to post comment
Please login to request check out of this item
This item does not belong to your library
You already placed a request for a similar item
You have reached the maximum limit of number of requests for check out
You already placed a request for this item
This item is already requested for check out by someone else
Unknown error occurred. Please try again
NOTALLOWEDTOREQUESTFORCHECKOUTFROMTHISSUBLOCATION
Your request for check-out is accepted. Your request is valid till
please login to reserve this item
INVALIDPATRONID
PATRONMEMBERSHIPEXPIRED
PATRONMEMBERSHIPONHOLD
MAXRESERVATIONCOUNTREACHEDBYPATRON
RESERVATIONALREADYPRESENTFORTHISPATRON
SIMILARITEMHELDBYPATRON
PATRONFROMTHISSUBLOCATIONNOTELIGIBLE
DOCUMENTAVAILABLE
RESERVATIONQUEUEFACTORNOTDEFINED
DATABASEERROR
UNKNOWN
Your reservation is successfully place. Your queue number is
Please Login To Save The Query
Query saved. You can close the dialog
Please Use A Different Query Name This Name Is Already Used
Unknown error. Please try again
Please Enter A Query Name
On saving the query, this dialog will close automatically