Email id:




Saved queries and queries in this session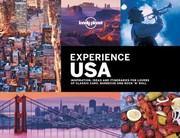 Experience USA:inspiration, ideas and itineraries for lovers of classic cars, barbecue and rock 'n' roll
Physical description:
316 pages colour illustrations, maps 21 x 27 cm;
General notes:
Subtitle from cover; . Includes index.;
Author(s):
Lonely Planet Global Limited
;
ISBN:
9781787013322 (hardcover) ;
Subjects:
. Travel.
;
United States --Description and trave --1981-
;
United States --Pictorial works
;
Summary notes:
Introducing a beautiful photo-rich hardback for the traveller who can't get enough of the United States. Experience USA's highlights include how to safely find and photograph bears in Yellowstone, cruising down California's famous Pacific Coast Highway, insight and advice on the country's best music festivals, working out in Los Angeles's open-air Muscle Beach gym, the lowdown on Texas barbeque and Kentucky bourbon;
Publisher:
Carlton, VIC : Lonely Planet, , 2018;
Call number:
E 169.04 E86 2018
;
Type:
Book
Available At:
CBA Library
Availability:

View details
Reviews:
(0 reviews)

View/Add reviews
Quick view ↓
|
Tag This Record

|
Add To Favourites

|
ReservethisItem
Print Record

|
Email Record

|
Add Record To Buffer(You can print all records in buffer) (You can print all records in buffer)

You Need to Login, to view the Full View
Download MARC Record
| | |
| --- | --- |
| Leader | |
| 008 | 191021 2018 |
| 020 | $a9781787013322 (hardcover) |
| 050 | 0 $aE 169.04$bE86 2018 |
| 245 | $aExperience USA$binspiration, ideas and itineraries for lovers of classic cars, barbecue and rock 'n' roll |
| 246 | $a USA |
| 246 | $a United States of America |
| 246 | $aLonely Planet experience USA |
| 260 | $aCarlton, VIC $bLonely Planet,$c 2018 |
| 300 | $a316 pages$bcolour illustrations, maps $c 21 x 27 cm |
| 500 | $aSubtitle from cover |
| 500 | $a. Includes index. |
| 520 | $aIntroducing a beautiful photo-rich hardback for the traveller who can't get enough of the United States. Experience USA's highlights include how to safely find and photograph bears in Yellowstone, cruising down California's famous Pacific Coast Highway, insight and advice on the country's best music festivals, working out in Los Angeles's open-air Muscle Beach gym, the lowdown on Texas barbeque and Kentucky bourbon |
| 650 | $a. Travel. |
| 651 | $aUnited States $xDescription and trave$y1981- |
| 651 | $aUnited States$vPictorial works |
| 710 | $aLonely Planet Global Limited |
Other books in the rack
Share your views - post your comment below
Please login to post comment
Please login to request check out of this item
This item does not belong to your library
You already placed a request for a similar item
You have reached the maximum limit of number of requests for check out
You already placed a request for this item
This item is already requested for check out by someone else
Unknown error occurred. Please try again
NOTALLOWEDTOREQUESTFORCHECKOUTFROMTHISSUBLOCATION
Your request for check-out is accepted. Your request is valid till
please login to reserve this item
INVALIDPATRONID
PATRONMEMBERSHIPEXPIRED
PATRONMEMBERSHIPONHOLD
MAXRESERVATIONCOUNTREACHEDBYPATRON
RESERVATIONALREADYPRESENTFORTHISPATRON
SIMILARITEMHELDBYPATRON
PATRONFROMTHISSUBLOCATIONNOTELIGIBLE
DOCUMENTAVAILABLE
RESERVATIONQUEUEFACTORNOTDEFINED
DATABASEERROR
UNKNOWN
Your reservation is successfully place. Your queue number is
Please Login To Save The Query
Query saved. You can close the dialog
Please Use A Different Query Name This Name Is Already Used
Unknown error. Please try again
Please Enter A Query Name
On saving the query, this dialog will close automatically