Email id:




Saved queries and queries in this session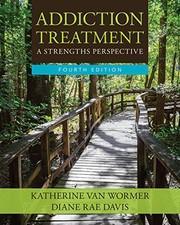 Addiction treatment:a strengths perspective/ Katherine Van Wormer, University of Northern Iowa, Diane Rae Davis, Eastern Washington University.
Physical description:
xv, 632 pages illustrations 26 cm;
Bibliographic notes:
Includes bibliographical references (pages 536-624) and index.;
Edition:
Fourth edition.;
Author(s):
Van Wormer, Katherine S.
;
Davis, Diane Rae
;
ISBN:
9781305943308;
Subjects:
Addicts --Rehabilitation
;
Drug addiction --Treatment
;
Substance abuse --Treatment
;
Alcoholism --Treatment.
;
Formatted contents notes:
The nature of addiction -- Historical perspectives -- Substance misuse, dependence, and the body -- Substance misuse with a co-occurring mental disorder or disability -- Gambling, eating disorders, shopping, and other behavioral addictions -- Addiction across the life span -- Screening and assessment -- Strengths-and evidence-based helping strategies -- Mutual help groups and spiritual/religious resources -- Family risks and resiliencies -- Ethnicity, culture, and the socioeconomic determinants of addiction -- Gender, sexual, and sexual orientation differences -- Public policy -- Appendix : Resources.;
Summary notes:
"ADDICTION TREATMENT covers the biological, psychological, and social aspects of alcoholism, eating disorders, compulsive gambling, and other addictions. The authors bridge the gap between the popular twelve-step and harm-reduction approaches, thus illuminating how practitioners can guide clients down a trusted path that is tailored towards the client's particular needs. Through a number of first-person narratives about the experience of addiction, students will discover a realism and depth not commonly found in textbooks." Publisher's website.;
Publisher:
Boston, MA : Cengage Learning , 2018;
Call number:
RC 564 V35 2018
;
Type:
Book
Available At:
Circulation Section
Availability:

View details
Reviews:
(0 reviews)

View/Add reviews
Quick view ↓
|
Tag This Record

|
Add To Favourites

|
ReservethisItem
Print Record

|
Email Record

|
Add Record To Buffer(You can print all records in buffer) (You can print all records in buffer)

You Need to Login, to view the Full View
Download MARC Record
| | |
| --- | --- |
| Leader | |
| 008 | 160624s2018 maua 001 0 eng c |
| 020 | $a9781305943308 |
| 050 | 00$aRC 564$bV35 2018 |
| 100 | 1 $aVan Wormer, Katherine S.$eauthor. |
| 245 | 10$aAddiction treatment$ba strengths perspective$cKatherine Van Wormer, University of Northern Iowa, Diane Rae Davis, Eastern Washington University. |
| 250 | $aFourth edition. |
| 260 | $aBoston, MA$bCengage Learning$c2018 |
| 300 | $axv, 632 pages$billustrations$c26 cm |
| 504 | $aIncludes bibliographical references (pages 536-624) and index. |
| 505 | 0 $aThe nature of addiction -- Historical perspectives -- Substance misuse, dependence, and the body -- Substance misuse with a co-occurring mental disorder or disability -- Gambling, eating disorders, shopping, and other behavioral addictions -- Addiction across the life span -- Screening and assessment -- Strengths-and evidence-based helping strategies -- Mutual help groups and spiritual/religious resources -- Family risks and resiliencies -- Ethnicity, culture, and the socioeconomic determinants of addiction -- Gender, sexual, and sexual orientation differences -- Public policy -- Appendix : Resources. |
| 520 | $a"ADDICTION TREATMENT covers the biological, psychological, and social aspects of alcoholism, eating disorders, compulsive gambling, and other addictions. The authors bridge the gap between the popular twelve-step and harm-reduction approaches, thus illuminating how practitioners can guide clients down a trusted path that is tailored towards the client's particular needs. Through a number of first-person narratives about the experience of addiction, students will discover a realism and depth not commonly found in textbooks."$cPublisher's website. |
| 650 | 0$aAddicts$xRehabilitation |
| 650 | 0$aDrug addiction$xTreatment |
| 650 | 0$aSubstance abuse$xTreatment |
| 650 | 0$aAlcoholism$xTreatment. |
| 700 | 1 $aDavis, Diane Rae$eauthor. |
Other books in the rack
Share your views - post your comment below
Please login to post comment
Please login to request check out of this item
This item does not belong to your library
You already placed a request for a similar item
You have reached the maximum limit of number of requests for check out
You already placed a request for this item
This item is already requested for check out by someone else
Unknown error occurred. Please try again
NOTALLOWEDTOREQUESTFORCHECKOUTFROMTHISSUBLOCATION
Your request for check-out is accepted. Your request is valid till
please login to reserve this item
INVALIDPATRONID
PATRONMEMBERSHIPEXPIRED
PATRONMEMBERSHIPONHOLD
MAXRESERVATIONCOUNTREACHEDBYPATRON
RESERVATIONALREADYPRESENTFORTHISPATRON
SIMILARITEMHELDBYPATRON
PATRONFROMTHISSUBLOCATIONNOTELIGIBLE
DOCUMENTAVAILABLE
RESERVATIONQUEUEFACTORNOTDEFINED
DATABASEERROR
UNKNOWN
Your reservation is successfully place. Your queue number is
Please Login To Save The Query
Query saved. You can close the dialog
Please Use A Different Query Name This Name Is Already Used
Unknown error. Please try again
Please Enter A Query Name
On saving the query, this dialog will close automatically